Water Damage Restoration Rancho Cucamonga
When it comes to being a residential or commercial property owner in Inland Empire, proactivity is essential to keep your investment safe and sound. Disaster can strike anywhere and at any time, and it is imperative to know who to turn to when times get troublesome. Whether it's flooding from a burst pipe or ceiling leak, water damage restoration services provided by an expert company are essential. Thankfully, 911 Restoration of Inland Empire is here to lend a helping hand. We understand the importance of timing during a flood, and that's why we'll be at your doorstep within just 45 minutes of your initial phone call.
Prompt and Professional Water Damage Restoration Services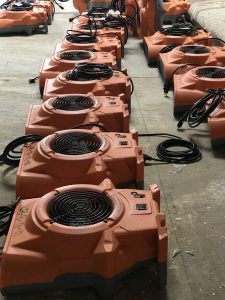 We're a nationwide company offering neighborly water damage restoration services to the residents of Inland Empire. Whether you're located across the street or across town, our crew is able to swiftly start servicing your water damage woes 24/7/365.
Through the use of state-of-the-art technology such as infrared cameras, water extraction machines, and powerful dehumidifiers, we're able to promptly remove large amounts of water from your home or office. Our quick work means you get to resume your normal life as soon as possible.
Time is of the essence when it comes to water damage restoration. A flooded basement or other disaster can immediately start taking its toll on your prized possessions. From leaving unsightly water stains to causing the structural foundation of your building to warp and possibly split, water can lead to a myriad of unwanted problems within just hours of the first signs of flooding. This is why 911 Restoration offers swift flood damage repair services. Our crew of water damage restoration experts will tackle your flooding problem right away. Regardless if it's day or night, we'll get to work immediately to save your home or business from further damage.
Not only are our services swift, but they're also sympathetic. Our "fresh start" approach enables our team to give you personalized support and care when you need it the most. We understand that seeing your building underwater can cause a wide range of negative emotions, including fear, anger, and stress. 911 Restoration of Inland Empire is here to show you the silver lining of the situation and provide you with a fresh beginning after the cleanup has been completed.
Additional benefits of working with us include:
A free visual inspection for property owners only
Burst pipe emergency repairs
Testing and evaluating the structural integrity of your building
Leak detection and repairs
A free insurance consultation
And much more!
Mold Removal Services in Inland Empire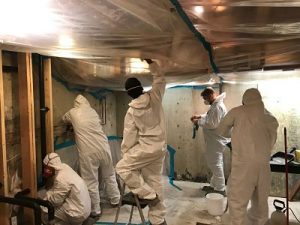 One consequence of not dealing with a flooding issue right away is the growth of mold. Warm, humid environments foster mold infestations and if not taken care of, it can turn into a full-fledged issue. If your property recently experienced water damage, you need an IICRC certified team of professionals to test your residence or business for the presence of mold, and if needed, to perform mold removal services.
911 Restoration of Inland Empire is the team you can trust. Mold removal is a sophisticated process that needs to be safely implemented. Our crew has the know-how and tools to attempt mold extraction efficiently.
Mold not only eats away at any surface it grows on, it also causes a plethora of health problems. Some health complications associated with mold include coughing, upper respiratory infections, wheezing, and increased allergy and asthma symptoms. If you have elderly people or children living in your building, it's imperative to complete mold removal right away so as not to put them in harm's way.
911 Restoration will be at your door within 45 minutes. We'll conduct a thorough mold search and send off samples for professional third-party testing at a local laboratory. If mold removal needs to be done, we'll set to work immediately. We want nothing more than to keep you and your family safe.
If you think you have mold in your building, do not hesitate to call 911 Restoration of Inland Empire. We're here to help you with your mold removal and water damage restoration needs. We're available 24/7/365 and take pride in helping the residents of Inland Empire in their time of need.
Serving the communities of Rancho Cucamonga, Upland, Fontana and surrounding area.