Water Damage in Fontana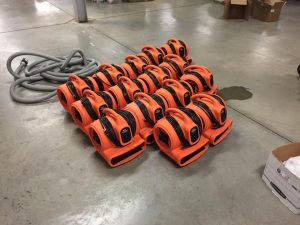 When a water damage emergency occurs on the property, it needs to be handled properly. Whether the water leak is caused by burst pipes or other natural causes, 911 Restoration of Fontana is trained to deal with any situation.
The water damage team in Fontana is available 24/7/365 and will arrive to all job sites within 45 minutes. Once the technicians are there, they will provide a free visual inspection for the property owner.
Whether it's an urgent water damage emergency such as a leaking roof or flooded basement, the water damage professionals can handle it all. The Fontana water damage team consists of IICRC-certified technicians to ensure the best service possible.
The water damage crew are trained to work with great care for any possible water remediation processes. Property owners can rest easy knowing that their water damage will be handled with the utmost professionalism. Call the team in Fontana today for any water damage extraction needs.

Sewage Backup Cleanup
One common cause of water damage emergencies on a property comes from sewage backup. This can easily be caused by burst pipes, backed-up bathtubs and more. When these sewage lines are compromised, they can cause a clog which can in turn leak on to the property and cause unexpected flooding.
Even if the pipes are made from solid materials such as copper, they can be warped from natural disasters such as earthquakes. This can be a major cause of water damage emergencies. These burst pipes can cause water damage on the site that needs to be removed immediately before causing further harm.
The water damage team at 911 Restoration Fontana is properly trained to handle any kind of sewage emergency. The team is dedicated to professionalism during the water extraction, and ensures that all the property needs are taken care of.
Burst pipes are classified as a Category 3 water damage, and should never be attempted to be removed without proper training. It might seem like an easy solution to try to repair the flooded bathroom without additional help, but this can be incredibly dangerous and can cause further water damage emergencies down the line. Our water damage team is able to handle any water remediation emergency that is thrown our way.
This water removal process needs to be managed by specialists. It's imperative to turn off the water line and to stay as far away as possible. It's best to leave the flood cleanup to the water damage specialists in Fontana.
Flooding Emergencies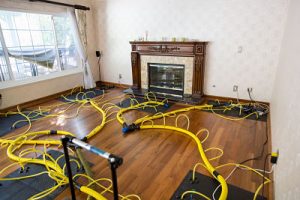 Living in a sunny area such as Fontana, property owners never expect to need flood cleanup services. However, house flooding can occur anywhere due to a variety of reasons. As as result, 911 Restoration of Fontana will always be ready to help at a moments notice.
Flooding emergencies can be caused not only from sewage backup, such as burst pipes, but also from weather elements such as heavy winds or rain. Water leaks can occur where it is least expected, and property owners may wonder how to solve the water removal process. The water damage specialists provide emergency roof repairs to ensure that every aspect of the property is covered.
The water damage team conducts a complete home restoration, including leak detection and repairs to ensure that the entire property is restored to its previous state. We will make sure that the entire restoration process is done with due diligence and professionalism so that we can give our customers a Fresh Start.
911 Restoration of Fontana also provides a free insurance consultation. Water damage emergencies can be costly, which can cause many property owners to try to handle it on their own. Many water damage emergencies are covered with homeowners insurance, so there is no reason to try to handle it without the help of the team of trained specialists.
911 Restoration of Fontana recognizes that property water damage, such as flood cleanup, pipe burst, sewage overflow, etc can be incredibly overwhelming to handle on your own. Our team wants to alleviate any of the worries possible during the water removal process and treat each and every disaster cleanup with the care that it deserves.
The water damage team has years of experience in the Fontana area handling any kind of water damage emergency. The property will be restored in no time and the professionals will go the extra mile to give any extra care necessary. Call 911 Restoration of Fontana today!