Fire Damage Restoration in Rancho Cucamonga
A fire can start in the blink of an eye and before you know it, your entire commercial or residential property can be engulfed in flames. The real work starts when the flames have been put out. For Inland Empire property owners who are in need of a fire cleanup, help is just 45 minutes away. 911 Restoration has 24/7/365 availability and will be at your doorstep immediately to start the fire restoration process. It doesn't matter if it's day or night, if you're located across the street or across the county, our crew is here to help you with swift and sympathetic services in your time of need.
Fire Restoration Services in Inland Empire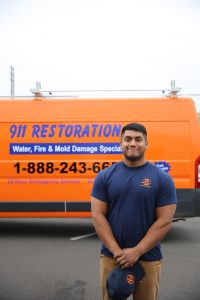 After the firefighters have left the scene, a property owner will be left to deal with the aftermath of a fire. Seeing your personal property and possessions burnt and charred can invoke a wide spectrum of negative emotions, including fear and anger. Thankfully, you don't have to deal with the smoke restoration process alone. 911 Restoration of Rancho Cucamonga is here to lend a hand.
We're a nationwide company offering localized, neighborly fire restoration services. We employ only the best professionals in the industry. Combine this with our innovative tools and equipment, you've got a recipe for success. We know exactly how fire can affect a building's structure, so formulating a proper plan of attack is simple for us.
Calling a fire damage restoration company immediately is essential for your building's wellbeing. It's not only the fire that can cause a plethora of problems, it's the soot and smoke leftover from the flames that can further damage your building. Some ways smoke can affect your home include:
Discoloration – Smoke will turn walls, ceilings, and surfaces yellow within just hours. Surfaces with porous stone, including granite or marble, will become permanently discolored.
Odor – Smoke damage will also leave a smoky smell in its wake. Completely removing the soot is the first step to ridding your property of the stench.
Interior Damage – Smoke can also have unseen consequences on your residential or commercial property. It can permeate your building's walls and ceiling and lead to structural damage, harming insulation, framing, and more.
It's critical to have a fire damage restoration company take action immediately. Not only is your property at risk for costlier repairs if you sit on the issue, but smoke damage can also lead to health complications. Once soot gets into your bloodstream, it can cause bronchitis, respiratory problems, shortness of breath, and even cancer or heart attacks. 911 Restoration of Rancho Cucamonga wants nothing more than to keep you and your family healthy. This is why we'll be at your location within 45 minutes of your initial phone call. Other benefits of working with us include:
A free fire damage assessment
Complete smoke and odor removal
Fire info center
Direct insurance billing
Inventory listing and lost itemization
Packing and storing unharmed possessions
And much more!
A Fresh Start after Water Damage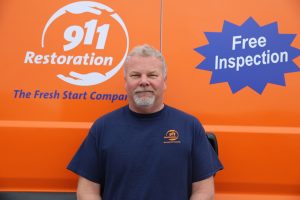 Smoke restoration isn't the only service you may need after a fire. Water damage restoration services may apply to you. The fire fighters use large quantities of water to put out the flames, sometimes leading to flooding and water damage. If your home or business suffered from water damage after a fire, 911 Restoration can help with that too.
We offer complete and total water extraction services. We're pros at removing large amounts of water from buildings swiftly. On top of our speedy services, we also are able to provide you with the sympathy and support you need during this troubling time.
911 Restoration of Rancho Cucamonga always puts our customers first. Our "fresh start" approach allows us to keep a positive outlook despite of the dire situation. We want to not only help our customers get back to normal again, but to offer them a better beginning after the water damage is dealt with.
If your commercial or residential property experienced a fire or flooding, it's time to call in the experts. 911 Restoration is available around-the-clock to help you. Contact us today and we'll be there to provide our expert fire restoration and water damage restoration services.