Mold Removal Rancho Cucamonga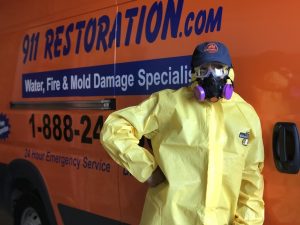 For Inland Empire home or business property owners who have recently experienced flooding from a burst pipe or ceiling leak, complete water extraction is sometimes not the only service you'll need. Water can creep into unseen crevices and under carpets, going unnoticed by the untrained eye. These water-stricken areas of your building can become a bacteria breeding ground, allowing mold and other fungi to flourish. If your commercial or residential building experienced water damage and you think mold may be present, you need to contact an expert mold removal services company promptly. Thankfully, 911 Restoration of Inland Empire will be at your doorstep within just 45 minutes of your initial call. Armed with HEPA filters, air scrubbers, and years of experience, our seasoned crew will get to work right away and thoroughly decontaminate the affected area.
Safe, Swift, and Sympathetic Mold Removal Services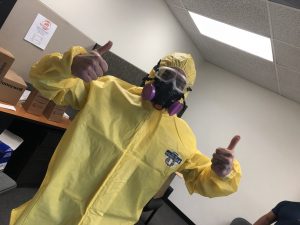 Mold is a type of fungus that has existed in nature for thousands of years. It thrives in humid, warm climates and procreates rapidly. While mold is helpful in its natural environment, swiftly helping to breakdown decomposing matter, it's an entirely different story when this fungus is present inside of your home or business.
Not only will mold leave unsightly green, black, and brown stains on your walls, but it also is accompanied by a foul, musty odor. If left unchecked, mold can start to eat away at any surface it grows upon, putting your building's structural integrity at risk. Furthermore, mold spores being present in the air can cause a myriad of troubling health issues, including wheezing, sneezing, coughing, runny eyes, and upper respiratory infections. Folks with allergies or asthma will suffer the most. In worst case scenarios, your property can be condemned.
This is why it is so crucial for a team of mold removal experts to tackle the problem right away. 911 Restoration is an IICRC certified company that will thoroughly test for mold. We'll also send the samples out to a local laboratory for professional third-party testing. If we do detect mold on the premise, we will thoroughly complete mold removal services so you can return to your normal life.
Once the job is complete, our crew will replace all previous building materials with antibacterial parts. This combats the chance of mold creating a new colony within your walls in the future. Other benefits of working with us include:
A free visual mold inspection for property owners only
Expert mold inspection and sampling
Commercial and residential mold removal services
Complete structural drying and dehumidifying
And much more!
Water Damage Restoration in Inland Empire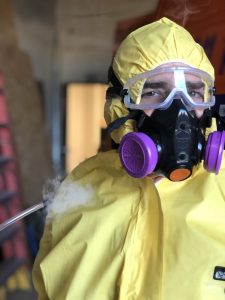 The presence of mold on your property typically means that your building suffered from severe flooding. Property owners should be proactive when flooding happens and contact a water damage restoration team immediately. 911 Restoration of Inland Empire not only provides incredible mold remediation services, we also specialize in water damage restoration.
Whether the water damage was from a flooded basement or severe storm, it's imperative to totally extract all droplets of water from your property right away. Our crew has the proper policies and procedures in place to promptly remove large quantities of water from your home or business. Whether it's day or night, we'll be at your doorstep within just 45 minutes. Our team is available to get the job done 24/7/365.
On top of our swift water damage restoration services, we also offer sympathy and support to our clients in their time of need. We understand that seeing your property and possessions underwater can conjure up a wide spectrum of negative emotions, including fear, stress, and anger. 911 Restoration's "fresh start" approach helps us to show you the silver lining of this dire situation and help you enter an entire new chapter of your life story once the water damage is done.
If your home or commercial property has experienced recent flooding, it's vital for you to call a water damage restoration company right away. 911 Restoration of Inland Empire is here for you when times get tough. Don't be afraid to pick up the phone and call us. We'll be at your location within just 45 minutes, regardless if you're located across town or across the county. We look forward to providing you with a fresh beginning.
Serving the communities of Upland, Fontana and surrounding area.