Water Damage in Rancho Cucamonga
Weather Alert: If you are experiencing weather-related damage from the storm, call us today for emergency assistance!
911 Restoration Rancho Cucamonga
For residential and commercial property owners living in Rancho Cucamonga, it's important to be prepared. Disaster can strike at any moment. When flooding from a ceiling leak or burst pipe or smoke damage from a fire happens, time is of the essence. This is why 911 Restoration of Rancho Cucamonga offers swift and efficient water damage restoration and smoke cleanup services. With a punctual 45-minute response time from your initial phone call, we are available 24/7/365 to help you during your time of need.
At 911 Restoration of Rancho Cucamonga, we offer a Fresh Start with our comprehensive selection of property damage restoration services, including but not limited to:
Whether you're a Rancho Cucamonga homeowner or business owner, 911 Restoration of Rancho Cucamonga is your Fresh Start! We'll communicate with you throughout the entire process, help answer questions related to insurance, and restore your property to its pre-damaged condition. One of our IICRC-certified teams is dispatched within 45 minutes of your call! Contact us today, and one of our friendly representatives will assist you in finding the nearest Rancho Cucamonga location.
Service area map
Our comprehensive services include:
Water damage restoration
Mold testing, sampling, and removal
Complete water drying and dehumidifying
Sewage cleanup
Smoke, soot, and ash removal
Emergency restoration
And much more!
If your home or business has been the victim of fire, flooding, or fungi, it's crucial to call 911 Restoration right away.
Kaylie Rollman
"Very knowledgeable and honest. They do a great job identifying the problem and then doing whatever necessary to fix it. They are extremely professional when it comes to going to your house, inspecting, quoting, and taking care of the problem. I will always go to 911 Restoration for all my mold and/or water damage needs."
Water Damage Restoration
When water damage strikes, it's imperative to get professional help immediately. Whether you have a flooded basement or an overflowing toilet, water can start taking its toll on your possessions and property right away. From causing unsightly stains and a musty odor to producing a breeding ground for mold, water needs to be thoroughly extracted right away.
911 Restoration has the expertise and equipment to perform efficient water damage restoration services on both commercial and residential properties. We'll start the mitigation process as soon as we arrive. We also offer a free visual inspection for property owners only so you know exactly where you stand. Our team won't leave until every inch of your building's surfaces are totally dried.
Mold Removal
Water can be a pesky problem. It can creep under carpets and into walls, creating a haven for mold to start growing. If your property recently experienced flooding, you need an IICRC certified mold removal company to decontaminate your home or business right away.
If left unchecked, mold can eat away at every surface it grows upon and also cause a myriad of health problems, including upper respiratory infections. This is why it's imperative to have the professionals perform mold removal services promptly. 911 Restoration of Rancho Cucamonga is a bonded, insured, and licensed mold removal company, guaranteeing your peace of mind during this difficult time. We not only will test for mold, but we'll send the samples out to local laboratories for professional third-party testing.
Fire Restoration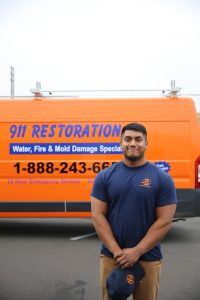 Water damage and mold remediation aren't the only services we cover. We also are fire restoration experts. When the flames have been put out, there is still a lot of work to be done. Smoke and soot can discolor your walls and furnishings, put the structural integrity of your home at risk, and even lead to health complications. It's vital to have a smoke cleanup team on site right after the fire has been extinguished to start the restoration process right away.
We will rid your property of soot, ash, and smoke. Other benefits of working with us include:
Locally owned and operated experts
Nationwide support
Same day service
24/7/365 availability
45-minute response time
A free visual inspection for property owners only
A caring and compassionate team
Top-notch customer service
Sewage Cleanup
If your toilet overflowed or a septic system pipe burst, your property could be in need of sewage cleanup services. Sewage water is contaminated and full of bacteria and human waste. It's a safety issue that needs to be dealt with immediately. Never attempt to perform a sewage cleanup on your own. It's always best to call in the experts.
Thankfully, 911 Restoration of Rancho Cucamonga can safely and swiftly perform a full-fledged sewage cleanup. We will not only deal with getting rid of the disgusting odor and sight, but ensure that your septic system is working properly again.
Disaster Restoration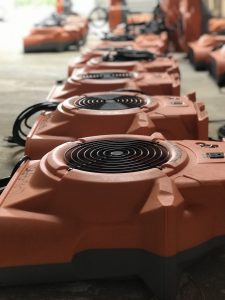 A disaster can strike anytime, anywhere. It's crucial for property owners to be aware of the dangers a severe storm can impose and have the number of a disaster restoration company in their rolodex. 911 Restoration is available around the clock to help you in your time of need.
Whether it's a flood or a fire, we offer an extensive list of disaster restoration services, including:
Emergency storm repairs
Emergency disaster restoration
Emergency water extraction
Emergency roof repair
Emergency boarding up
Emergency pack-out and storage services
A free insurance consultation
If your home or commercial building has experienced a disaster, it's important to get the help you need right away.
Commercial Restoration
911 Restoration of Rancho Cucamonga are commercial restoration experts. Whether you own an office building, apartment complex, or a mall, we're here to get your commercial property up and running again.
From water damage cleanup to smoke removal and mold decontamination, we're here to provide expert commercial restoration services. Not only are our services swift, they're also sympathetic. Our "fresh start" approach enables us to put our clients at the center of our attention and to lend the caring and personalized touch they need during this terrible time. We'll help you to see the silver lining of the situation and start a new and improved chapter of your life.
If you have experienced a flood or fire, help is only 45 minutes away. Call 911 Restoration of Rancho Cucamonga today to receive the attentive and expert commercial restoration services you need.
Serving the communities of Rancho Cucamonga, Upland, Fontana and surrounding area.