Water Damage and Mold Removal in Rancho Cucamonga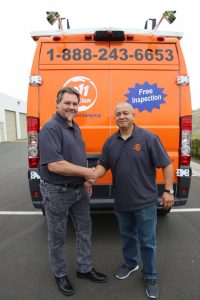 Water damage is a property disaster that comes out of nowhere and leaves you scrambling to rescue your belongings and preserve the health of your home.
Whether you've been caught off-guard by a pipe burst, a plumbing leak, a flooded basement, or any other unexpected event, the experts at 911 Restoration of Rancho Cucamonga are on-call to step in and put things right.
Our water damage restoration technicians will be at your door within 45 minutes of your call, guaranteed. Even better, you can make that call day or night, 365 days out of the year, and someone will pick up. 911 Restoration knows pipes don't wait until working hours to burst, so our techs don't expect you to wait for a resolution.
After all, time is of the essence when it comes to water damage. The longer water sits in your home or office, the more vulnerable your property becomes to permanent damages and mold contamination.
That's why water damage restoration and mold removal experts approach your leaks and floods with a sense of genuine urgency and care.
Even better, these repair technicians are IICRC certified and trained to be thorough. They won't rest until your property is completely dried out, all traces of mold are removed, and your home or office is better than new.
They'll even help you file your insurance claim and bill your provider.
Not even severe basement flooding has to be a full-blown crisis. At 911 Restoration of Rancho Cucamonga, we truly believe an unexpected disaster is an opportunity for a Fresh Start. Give us a call and let us help you find your way to an exciting new beginning.
Flood Cleanup And Water Damage Restoration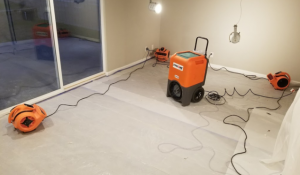 A pipe bursts in your property at 3:00 a.m. Water sprays everywhere, gallons of it soaking into your carpet, your floorboards, and who knows where else. Your mind reels. You have to save the furniture. You have to protect your foundation and walls. You have so little time.
The restoration technicians know your panic, and they understand it. They've been here before, and they know exactly what to do to minimize the damage as much as possible, as quickly as possible.
The first step in water damage restoration is to protect the items that haven't been damaged yet. Repair techs immediately pack out and store your unharmed belongings.
Once those items are safe, the work of flood cleanup begins. Our technicians tackle your soaked property with heavy duty equipment guaranteed to leave your space bone dry. They also examine your property top to bottom for any lingering moisture or hidden damages in the walls or foundation.
As a full-service restoration company, 911 Restoration staff are highly trained not only in water damage restoration, but also in managing additional damages caused by water-related incidents. Our water remediation techs are also mold removal specialists.
A flooded property can seem like the end of the world, and flood cleanup may feel like an impossible task. Don't worry. When you have true experts on your side, your property will be back in top condition in no time. Give us a call and we'll show you how.
Certified Mold Specialists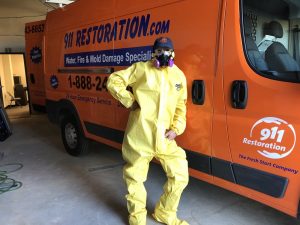 All too often, where there's water, there's mold. And mold has a pesky habit of turning up in dark corners where we don't think to look. Whether you've discovered mold under the sink, in your walls, or on the ceiling above your shower, it's in your best interest to contact a certified mold removal company right away.
If left to its own devices, mold can cause lasting damage to the surface where it grows. It's also potentially harmful to your health, with more toxic varieties like black mold linked to respiratory issues, dizziness, and frequent headaches. Not to mention, mold is ugly.
Mold is also stubborn. Permanent mold removal requires professional intervention. Home cleaning products can't help you remove mold completely. You need the expertise of trained mold decontamination specialists. The staff of 911 Restoration fit the bill, and they even offer free visual inspection for property owners, so they can give you a clear explanation of your infestation, risks, and options before they even begin remediation.
No matter what service you require, from water damage restoration to mold removal, 911 Restoration serves you with one clear goal in mind. We want to give you a Fresh Start. Call us right away so we can help you put water damage in the past and look forward to the future.
911 Restoration proudly serves Fontana, Rancho Cucamongo, Rialto, Upland and any surrounding cities.