Mold Removal in Fontana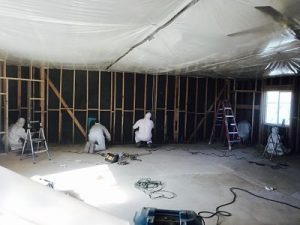 Have you noticed strange discoloration on the walls or floors of your property in Fontana? Maybe you've caught a foul odor as you move around your home or business. Bad smells and discoloration can be indications that you have a mold infestation in your property.
Resolving residential or commercial mold damage requires hard work and the proper equipment. The pros at 911 Restoration of Rancho Cucamonga have years of experience taking care of mold decontamination so they're ready to bring your property back to better-than-new condition by:
Assessing the Severity of Your Mold Infestation with a Mold Inspection

Developing a Plan to Handle Mold Remediation

Taking Away Materials Infested with Mold

Handling Mold Cleanup, Mold Decontamination, and Odor Removal
You do not have to worry about a mold infestation in Fontana if you contact our licensed, bonded, and insured technicians to get professional help. Let us give you back your peace of mind by totally restoring your home or business.
Let Us Make Mold Cleanup Stress Free in Fontana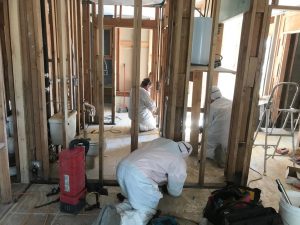 There are many different types of mold. Some strains of this fungus can cause allergic reactions, like coughing and sneezing. You might also be dealing with an infestation by toxic black mold, which can lead to more serious respiratory conditions.
911 Restoration of Rancho Cucamonga can work with a 3rd party laboratory to test and assess the mold in properties around Fontana as part of our mold inspection. Identifying the type of mold you are dealing with can make the mold removal process easier.
Mold generally only grows in areas that are dark and damp. This means that you may be at risk for a mold infestation if your property floods. 911 Restoration of Rancho Cucamonga is a full-service property restoration company. We have the training and resources to handle:
Emergency Water Extraction after a Flood

Drying and Dehumidification Services

Total Water Damage Restoration
Removing water and repairing any damage done by a burst pipe or a flood can limit the odds that you'll ever have to deal with a mold infestation. If you do spot mold after a water damage emergency, the techs at 911 Restoration of Rancho Cucamonga are here to take care of your mold decontamination needs.
Mold Remediation Services in Fontana Are Only a Phone Call Away
The mold experts at 911 Restoration of Rancho Cucamonga can completely restore homes and businesses throughout Fontana. Getting help right away can ensure that you won't even be able to tell that a mold infestation ever occurred.
Our mold remediation techs are IICRC certified to handle both commercial and residential mold removal for property owners in Fontana. You can also count on us to resolve any underlying issues that might have allowed your mold infestation to develop.
We understand that mold can damage your property and negatively impact your health, so mold remediation techs can offer you same day services, starting with a free visual mold inspection for property owners only and total mold cleanup.
Get a Fresh Start after a mold infestation by reaching out to 911 Restoration of Rancho Cucamonga right now. Your property can be returned to better-than-new condition with the help of our licensed, bonded, and insured technicians.