Mold Removal in Upland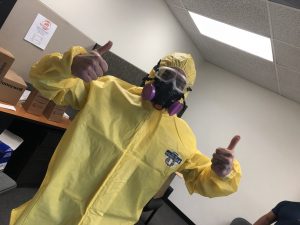 Mold is a small fungus that can quickly cause big problems for property owners in Upland. Mold can damage structures in your home or business as well as your furnishings. Certain types of mold can even cause health problems as their spores drift through the air and are inhaled.
You can reverse the damage caused by a mold infestation by contacting 911 Restoration of Rancho Cucamonga today. Mold removal techs are available to answer your calls 24/7/365, so you don't have to deal with a mold infestation any longer than is absolutely necessary. We can even reach your property within 45 minutes of an emergency call.
Our mold remediation techs can reach your property armed with years of experience and professional-grade mold removal equipment to offer you:
A Free Visual Mold Inspection for Property Owners Only

Mold Testing from a 3

rd

Party Laboratory

Service Isolating Mold Growth so Spores Cannot Spread

Removal of Items Experiencing a Mold Infestation

Mold Decontamination and Odor Removal for Homes and Businesses
Call us now to get the mold cleanup services you need to get a Fresh Start.
Focus on Water Damage Restoration and Mold Removal
Mold often spreads quickly after you experience water damage. Floods, heavy rains, and plumbing emergencies can leave you in need of a mold inspection. The mold remediation pros at 911 Restoration of Rancho Cucamonga can:
Repair Damage Caused by Leaky Pipes and Heavy Rains

Take Care of Mold Decontamination Right Away

Focus on Mold Cleanup so You Can Breathe Easy
As a highly trained water damage restoration company, we are ready to provide you with all the mold remediation services you need to get back your peace of mind after a mold infestation. Let us remove water from your property while drying and dehumidifying your home or business in Upland.
You deserve professional help from a locally owned and operated business after a mold infestation. Let 911 Restoration of Rancho Cucamonga return your property to better-than-new condition.
Get Help from a Local Mold Remediation Company in Upland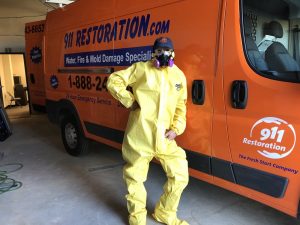 Let the professionals take charge if you spot any signs of mold in your property. Our techs can perform a mold inspection and use infrared scanners to detect any spots of hidden moisture that can give mold a place to grow.
We have the equipment and training to dry and dehumidify your property after heavy rains, a pipe burst emergency, or even a sewage backup. Extracting water from your home or business is easy with professional grade pumps.
Protect your health and peace of mind by calling a professional mold cleanup company as soon as you suspect that mold is creeping through your home or business in Upland. The pros at 911 Restoration of Rancho Cucamonga take mold decontamination seriously and they won't rest until your property is returned to pristine condition.
You can count on us to:
Disinfect Items Infested with Mold

Repair Any Damage to Your Walls, Ceilings, or Floors

Completely Remove Any Mold Odors
Let us totally restore and renovate your property today.